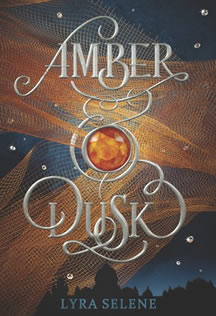 Amber & Dusk
For a thousand years, the sun has never set on the Amber Empire. This is a world divided by dusk: on one side lies the Midnight Dominion, its unknown depths hungry for light; and on the other, the Amber Empire, a vast kingdom lit by a smoldering sun and exalted for its resources.
Raised in the dusk lands between light and dark, seventeen-year-old Sylvie harbors a secret–she possesses the power to create illusions from thin air. This power identifies her as a descendant of a mystical bloodline, and promises her a place at the Imperial court. But when she arrives at the palais at the heart of the Amber City, Sylvie quickly realizes that her blood guarantees her nothing, and she must wager for her place at court against cunning courtiers and predatory royals. Navigating a complicated web of intrigue and misinformation, Sylvie struggles to master her gift while dodging cruel pranks, vicious insults, and possible disgrace. And as beautiful as the palais seems, its mirrored hallways, winter gardens, and gilded marble are nothing more than a mirage to hide a brutal past and deadly secrets.
Secrets that threaten to change not just Sylvie's life forever, but the very face of the daylight world.